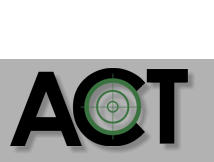 Advanced Compliance Technology
Terms and Conditions
By engaging Advanced Compliance Technology, Inc.
(hereinafter "ACT") or participating in our training you accept
the following terms and conditions and the conditions.
Client obligation
By accepting the following terms and conditions you have
acknowledged that you will;
Undertake the training in a responsible manner ensuring that
you read and understand the course material, including
material the client is directed to through links and other
websites or attached articles;
Must not seek or accept assistance with assessments except
for support offered by ACT through live Q&A presentations,
or e-mail communications with ACT;
The student warrants that the information which it provides to
ACT whether directly or indirectly, or through the website, or
which is otherwise displayed on this website is provided in
good faith and is true and correct to the best of its
knowledge, information and belief. That is, that the student is
declaring that all information it provides is true and correct.
The client also declares that all assessment work is their
own.
Copyright
All content is copyright © Advanced Compliance Technology,
Inc. unless otherwise stated. This includes, but is not limited
to: all text, images, graphics, audio commentary, visual
presentations and any course related files. Material cannot
be copied, reproduced or distributed in any form without prior
written consent. All material provided and presented during
training is for the sole use of the company and/or individual.
Conditions
ACT reserves the right to modify, cancel and limit any
training, service or promotion. We reserve the right to refuse
participants for any reason. Purchasing one online training
course allows one person to access the training course.
Purchasing a package training allows the registered persons
under that package to access the training course. Courses
are not transferable. By accepting enrolment terms and
conditions, you are warranting that you are the person
completing the course.
Warranty
No warranties or guarantees are made in any of the material.
By using any of the material provided you accept all liability
for your actions. Except for the express representations and
warranties stated in this agreement, ACT makes no
warranties whatsoever. ACT explicitly disclaims any other
warranties of any kind, either express or implied, including
but not limited to warranties of merchantability or fitness for a
particular purpose or compliance with laws or government
rules or regulations applicable to the product or services.
Fees & Terms of Payment
In consideration of the services to be provided by ACT, the
client shall pay to ACT fees and expenses in the amounts
and according to the payment schedule, and all applicable
sales, use or value added taxes, even if calculated or
assessed subsequent to the payment schedule. Terms of
payment will be included in the schedule or invoice.
Indemnification/Liability
The products and services of ACT are sold "as is". In all
circumstances, the maximum liability of ACT, its directors,
employees, agents and affiliates, to client for damages for
any and all causes whatsoever, and client's maximum
remedy, regardless of the form of action, wether in contract,
tort or otherwise, shall be limited to the charges paid in
respect to product or service, provided suitable notice of any
such claim in made within 30 days to ACT. In no event shall
ACT be liable for any lost data or content, lost profits,
business interruption or for any indirect, incidental, special,
consequential, exemplary or punitive damages arising out of
or relating to the products or materials or services provided
by ACT, even if ACT has been advised of the possibility of
such damages, and notwithstanding the failure of essential
purpose of any limited remedy.
Terms and Terminations
This agreement may be terminated at any time by either
party effective immediately upon notice, or the mutual
agreement of the parties, or if any party (a) becomes
insolvent, files a petition or bankruptcy, makes an
assignment for the benefit of its creditors; or (b) breaches
any of its material responsibilities or obligations under this
Agreement, which breach is not remedied within ten (10)
days from receipt of written notice of such breach. In the
event of termination, ACT shall be compensated for the
services performed through the date of termination in the
amount of (a) any advance payment, (b) a prorated portion of
the fees due, or (c) hourly fees for work performed by ACT or
ACT agents as of the date of termination, whichever is
greater, and client shall pay all expenses, fees, out of
pockets together with any additional costs incurred through
and up to, the date of cancellation.
Modification of Terms and Conditions
ACT reserves the right to update and change the terms and
conditions from time to time without notice. Any alterations to
products or services shall be subject to the terms and
conditions. Continued use of a product or service after any
such changes shall constitute consent to such changes.
Privacy Policy
ACT regards customer privacy as an important part of our
relationship with our customers. The following privacy policy
applies to all ACT users, and conforms to Internet privacy
standards. If you have any questions or concerns regarding
this statement, you should first contact ACT.
By answering submitting acceptance of these terms and
conditions you have confirmed that the information you
provide to ACT, whether directly or indirectly, or through the
website, or is otherwise displayed on this website is provided
in good faith and is true and correct to the best of your
knowledge, information and belief. That is, that all
information you provide is true and correct. You also declare
that all assessment work will be your own.
Collection of Information
In order to use the ACT website, we may require
information from you in order to provide the best service
possible. All correspondence may also be collected and
stored, particularly in regard to sales, support and
accounts, including Email. Any information collected by
ACT is collected via correspondence from you or your
company. This may be via telephone, Email, mail, fax or
directly through our website.
Use of Collection Information
Any details collected from ACT customers is required in
order to provide you with our products and/or services,
and a high level of customer service. Correspondence is
recorded in order to provide service references, and to
assist in our staff development.
Storage of Collected Information
The security of your personal information is important to
us. We use qualified companies to process your payment
information. ACT does not receive sensitive information
(such as credit card numbers) on our website. We follow
generally accepted industry standards to protect the
personal information submitted to us, both during
transmission and once we receive it. If you have any
questions about security on our website, you can email
us.
Access to Collected Information
If your personally identifiable information changes, or if
you no longer desire our service, you may correct,
update, delete or deactivate it by emailing us.
Orders
If you purchase a product or service from us, we may
request certain personally identifiable information from
you. You may be required to provide contact information
(such as name, Email, and postal address) and regulatory
information (such as licenses, registrations, agency
appointments). We use this information to qualify you for
services requested and to fill your orders. If we have
trouble processing an order, we will use this information
to contact you.
Communications
ACT uses personally identifiable information for essential
communications, such as Emails, accounts information,
and critical service details. We may also use this
information for other purposes, including some
promotional Emails. If at any time a customer wishes not
to receive such correspondence, they can request to be
removed from any mailing lists by emailing us. You will be
notified when your personal information is collected by
any third party that is not our agent/service provider, so
you can make an informed choice as to whether or not to
share your information with that party.
Third Parties
ACT may at its discretion use other third parties to
provide essential services on our site or for our business
processes. We may share your details as necessary for
the third party to provide that service. These third parties
are prohibited from using your personally identifiable
information for any other purpose. ACT does not share
any information with third parties for any unknown or
unrelated uses.
Legal
We reserve the right to disclose your personally
identifiable information as required by law and when we
believe that disclosure is necessary to protect our rights
and/or comply with a judicial proceeding, court order, or
legal process served on our Website.
Links
Links on the ACT site to external entities are not covered
within this policy. The terms and conditions set out in this
privacy statement only cover the domain name of
www.advancedcompliancetraining.com and
www.advancedcompliancetechnology.com.
Changes to Privacy Policy
If we decide to change our privacy policy, we will post
these changes to this privacy statement, the homepage,
and other places we deem appropriate so that you are
aware of what information we collect, how we use it, and
under what circumstances, if any, we disclose it. We
reserve the right to modify this privacy statement at any
time, so please review it frequently. If we make material
changes to this policy, we will notify you here, by Email or
by means of a notice on our homepage.
Security Policy
ACT uses PayPal for its online credit card transactions.
PayPal processes online credit card transactions for
thousands of U.S. merchants, providing a safe and
secure means of collecting payments via the Internet. All
online credit card transactions performed on this site
using the PayPal gateway are secured payments.
•
Payments are fully automated with an immediate
response.
•
Your complete credit card number cannot be
viewed by ACT or any outside party.
•
All transaction are performed under 128 Bit SSL
Certificate.
•
All transaction data is encrypted for storage
within PayPal data centre, further protecting your
credit card data.
For more information about PayPal and online credit card
payments, please visit www.paypal.com
Delivery Policy
After ordering online, you will receive an email
confirmation from PayPal containing your order details (if
you have provided your email address). We will normally
confirm receipt of your order within a few minutes of
ordering. We will attempt to activate your account and
send you login instructions within 1 hour. I
Prerequisites
By accepting these terms and conditions I acknowledge that
I have met the prerequisite requirements applicable to the
course selection. The prerequisites can be located under
course information along with Prerequisite guidelines which
can be found in the ACT website home page.
Relevant Legislation and Regulatory Requirements
During the course delivery you will be provided with
information relating to relevant legislation and regulatory
requirements directly relating to the course being
undertaken. Additional legislation and regulatory
requirements can be provided by ACT management on
request from the student.
Website Disclaimer
No warranties
This website is provided "as is" without any representations
or warranties, express or implied. ACT makes no
representations or warranties in relation to this website or the
information and materials provided on this website.
Without prejudice to the generality of the foregoing
paragraph ACT does not warrant that:
a) this website will be constantly available, or available at all;
or b) the information on this website is complete, true,
accurate or non-misleading.
Nothing on this website constitutes, or is meant to constitute,
advice of any kind. [If you require advice in relation to any
[legal, financial or medical] matter you should consult an
appropriate professional.
Limitations of liability
ACT will not be liable to you (whether under the law of
contact, the law of torts or otherwise) in relation to the
contents of, or use of, or otherwise in connection with, this
website:
•
to the extent that the website is provided free-of-
charge, for any direct loss;
•
for any indirect, special or consequential loss; or
•
for any business losses, loss of revenue, income,
profits or anticipated savings, loss of contracts or
business relationships, loss of reputation or
goodwill, or loss or corruption of information or data.
These limitations of liability apply even if ACT has been
expressly advised of the potential loss.
Exceptions
Nothing in this website disclaimer will exclude or limit any
warranty implied by law that it would be unlawful to exclude
or limit; and nothing in this website disclaimer will exclude or
limit ACT's liability in respect of any:
•
fraud or fraudulent misrepresentation on the part of
ACT or
•
matter which it would be illegal or unlawful for ACT
to exclude or limit, or to attempt or purport to
exclude or limit, its liability.
Reasonableness
By using this website, you agree that the exclusions and
limitations of liability set out in this website disclaimer are
reasonable. If you do not think they are reasonable, you
must not use this website.
Other parties
You accept that, as a limited liability entity, ACT has an
interest in limiting the personal liability of its officers and
employees. You agree that you will not bring any claim
personally against ACT's officers or employees in respect of
any losses you suffer in connection with the website.
Without prejudice to the foregoing paragraph, you agree that
the limitations of warranties and liability set out in this
website disclaimer will protect ACT's officers, employees,
agents, subsidiaries, successors, assigns and sub-
contractors as well as ACT.
Unenforceable provisions
If any provision of this website disclaimer is, or is found to
be, unenforceable under applicable law, that will not affect
the enforceability of the other provisions of this website
disclaimer